Tremor 3d Graphics Engine Homepage
The Tremor 3d Graphics Engine Demo 2 download it here!
Demo 3 with new shading model download it here!
Exciting new features!

Support for animated, true-3D dynamic objects--things to shoot at!

Support for several types of cool looking shading, including Quake-like surface caching of pre-lit textures

MipMapping now supported

PVS (Potential Visibility Set) Pre-computation

New physics and effects: stairs, elevators, doors, bouncing . . .

Start of support for multi-player network play

Start of support for Texture Map animation

Start of support for 3D shape editor "EditBoy" for creating and editing 3D objects

Exciting old features!

True 3D, 6 degree of freedom graphics engine (like Qauke; not like Doom or Duke Nuke'em 3D)

BSP based backgrounds with z buffered dynamic objects
Real-time texture mapped polygons

Sophisticated collision detection

Sound support

Features That May be Coming Real Soon Now!

Support for the legacy operating system "Windows 95"

Support for 16 bit displays

Support for hardware accelerators or MMX

Real game-like features like plot and objectives

The new Quake-like surface cache technique . . .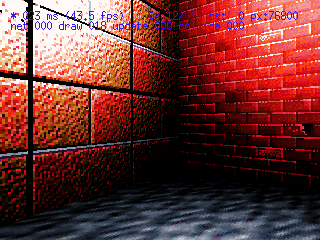 What lies down the hall?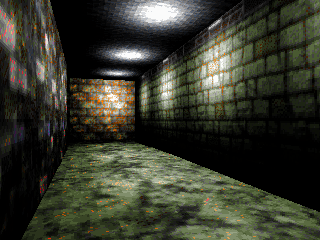 Here is a wireframe view of an algorithmically generated world: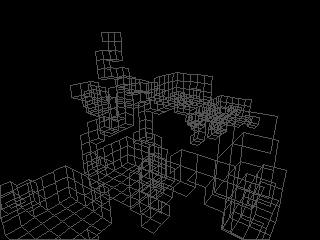 Upstairs, an enemy attacks . . . (older)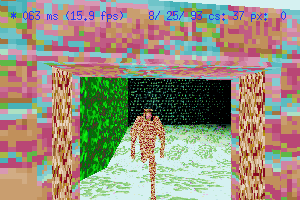 What you see above is a real time free-direction texture mapped 3d game engine prototype that is written in C for Linux/X but will port fairly easily to Win95/DOS. It is currently capable of frame rates up to 30fps on reasonably interesting images. With assembly optimization that figure should stay about the same even when it is doing fun game-like things.
The engine has improved significantly since the demo version 1 release of several months ago. A MUD or game is the likely next step.
FAQ (Frequently Asked Questions)
Q: 'Tremor' . . . is that some kind of a play on 'Quake'?
A: Yes, you're so clever.

Q: Is there anything to shoot at yet?
A: Yes!


Q: Can I get my very own demo copy of Tremor to play with?
A: Yes! Right here.


Q: Is source code available?
A: Not at this time.


Q: Can I get involved and work on Tremor in some capacity?
A: Maybe. Drop me a line here.


Q: Hmm. I'm interested, but I just don't know. Is there a mailing list I can get on to receive any other announcements of progress on Tremor?
A: Why yes, there is. Send a message to majordomo@mail.interstice.com with a body that consists of the two words: subscribe tremorlist

Did You Say Something About a 3d Object Editor And Animator?
Yes, it's called, lamely, EditBoy. Warning! This is a large GIF image that will take a while to download.
Demo Version 1 Homepage
Here's the more primitive demo1 version of Tremor. Historical interest only.
You are visitor